Summerfest Bringing Arrowhead Students Together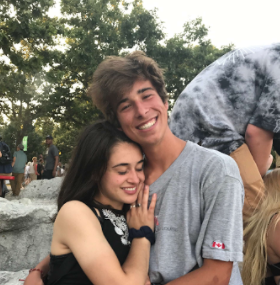 Summerfest is known to be the longest running music festival in the world. This music festival is located on the shores of Lake Michigan, in Milwaukee, Wisconsin. It is run by the non-profit organization Milwaukee World Festival Inc. and is well known to positively impact the local economy with $187M in annual economic impact every year. This year is different for this well known music festival, because it is celebrating Summerfest's 50th anniversary.
Since the mid-1970s Summerfest has run from late June through early July, including the 4th of July holiday.  In 1968, the first Summerfest kicked off at various locations around Milwaukee. Two years later, Summerfest relocated on Milwaukee's lakefront. Today, the grounds include a colorful midway, bars, restaurants, vendor buildings, food and beverage stands, restrooms, dozens of high-tech stages and a 23,000-seat amphitheater which hosts some of the most famous celebrities in the music industry.
The Marcus Amphitheater and Grounds Stages hosted a variety of well known and celebrated lineups to date, including the Red Hot Chili Peppers, the Chainsmokers, Pink, Luke Bryan, Flume, T-pain, Steve Aoki, Miike Snow, AWOLNATION, Toto and Guster. With that, many people from out of state and  all around Wisconsin came together to enjoy their beloved bands. Many Arrowhead students wait all year for Summerfest to come. It is known by many students to be the highlight of their summer.
Paige Schaber, a senior says, "I know that many people at Arrowhead wait all school year for Summerfest. It is constantly talked about throughout the hallways, even months before school is even out. I believe that people love it so much, because it brings everyone so close together more than they would ever be in a school environment. It tends to bring my friends and I closer together, and we are able to meet other individuals who share our same likes in music. The music has a way of connecting everyone together, which just makes us all feel like we belong. I can recall 2016's lineup, and how my friends and I went to see Jason Derulo and were singing at the top of our lungs. It is a moment I treasure so much."
"I love summerfest for all of the different experiences offered. I think of it almost as a little city because there's something for everyone, notably in the variety of music acts that come to the event. There are artists from all genres that allow opportunities for everyone to experience. I think that's why summerfest gets such a high number of visitors. Everyone can find something fun to do, and the plethora of demographics that visit the festival keeps each visit unique and exposes you to many new people and experiences," Sophie Carey, a senior says.