Students Juggle Jobs with Schoolwork During School Year, then Work During Summer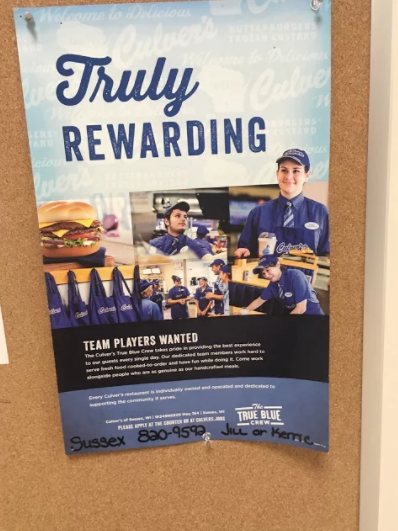 Students now are applying for jobs such as Culver's, Kim's, and the Lighting House in Delafield. Along with extra-curriculars comes other responsibilities that students take on during the school year.
"My job is a bit more advanced/difficult than what some teenagers do for jobs these days. The great experience it is giving me and knowledge is really beneficial. It shows me what it is like to have a job like this for an adult,"says Lauren Engaldo, a sophomore at Arrowhead.
Engaldo plays field hockey on Arrowhead's JV team and is also is committed to stay on top of school.
Alexis Karrels, a sophomore at Arrowhead, works at Culver's and has been for nine months now. She is an active member in Key Club while juggling all activities.
"I have been working for nine months. I work at Culver's. I started when I was 15. I am 16. I used to do 20 hours, now I do ten hours. I stay up extremely late to do homework. I play softball. I did enjoy it, now it is getting old. One advantage are the coworkers are nice. Some disadvantages are minimum wage and some managers are bad," said Karrels
Alexis Karrels is a sophomore at Arrowhead is in Key Club, while still excelling in school.
Many students are in club events and activities during the weekend which substitutes social and work time. Athletic events and volunteer events are also big time impacts in their schedules, as well as spending time with friends outside of school.
"I worked at the gas station for six months. I work at Marshalls now. I worked at the gas station in the summer and two months of school. I started when i was 16. I'm 17 now. I don't play sports. I liked the job, yes. I worked with two juniors from Arrowhead. An advantage is that I made my own money. A disadvantage is that I didn't have enough time for homework," said Sarah Gissibl, a sophomore at Arrowhead.
Emmaline Lagerman, a sophomore at Arrowhead, is active the the Milwaukee Youth Symphony Orchestra (MYSO) as well as Arrowhead's band, and still was able to say on top of school.
"It's hard to fit marching band, myso, work, and school all into one day. I constantly feel on the go and stressed," says Lagerman.
Savannah Knaack, a sophomore at Arrowhead, said "I have been working for almost a year. I work at Seven Seas restaurant. I was fifteen years old when I started my job. I work 5-12 hours a week during the school year and 10-20 hours a week in the summer. My job is mostly on the weekends so it is not that hard to juggle with schools, but when I do work during the week I make sure to do my homework right when I get home. I ran track and cross country while having a job and the only thing that was conflicting was Friday practices and weekend meets. I love working at my job. I work with two students from arrowhead, Jordan Kovacik, and Mitchell Wnuk. The advantages of working were that I learned how to manage my time really well, and I was able to get money to spend. The Disadvantages were that it got really busy often and was stressful when I had tests to take or events that I needed to attend."