Students Raise Cystic Fibrosis Awareness at Arrowhead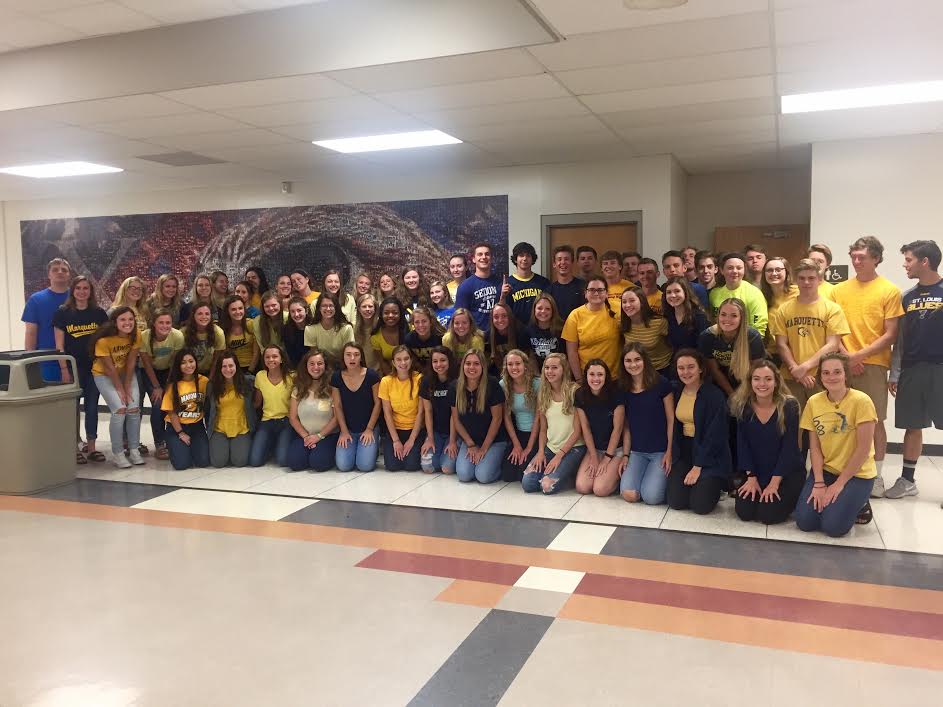 "More than 30,000 people in the U.S. live with cystic fibrosis and one of our fellow students, Anthony Sikorski is one of them," said Becky Gordon, associate principal of Arrowhead High School North Campus.
According to Gordon, Anthony and his brother William wish to spread awareness, and positivity, and inspire people to enjoy and celebrate life. Arrowhead did just that when students dressed in navy blue and gold to spread awareness.
In an email that Gordon sent out to all students on May 17th, it says that the Arrowhead chapter of HOSA would like students to join them in showing support for the Sikorski family and Great Strides Cystic Fibrosis.
Kiley Bennett is a member of HOSA. "HOSA is an international student organization that promotes career opportunities in health care through leadership, volunteer, and community involvement," says Bennett.
HOSA currently includes members from the Health Youth Apprenticeship CNA program. In the 2017-2018 school year, it will be open to all students.
As Bennett says, anyone who is interested in a career in healthcare is encouraged to join.
To join, arrive at the first meeting this fall (date currently not available). Posters will be hung around the school. For more information, contact Mrs. King, the club advisor.
Sikorski, a sophomore at Arrowhead has Cystic Fibrosis.
"For those who don't know Anthony, he is a student here at Arrowhead. I've only known him for a short time, but I have yet to meet someone who isn't touched by Anthony and his story within minutes of meeting him. His positivity and bright spirit inspires all, especially because he refuses to let himself become his disease. His family's number one goal is not raising money, it's to raise community awareness, for people to deeper understand CF and the affects of it. Not only that, but he preaches positivity, dismisses pity and encourages everyone to celebrate the lives of CF victims, not their struggles," says Bennett.
Sikorski's team "Shake Shake" had combined with Arrowhead's HOSA to participate in the cystic fibrosis walk that occurred on May 21st. Together, they have raised 26,000 for the cause.
Team Shake Shake is Anthony's team that he and his family created to participate in the Cystic Fibrosis walk. HOSA and Team Shake Shake joined together because, unfortunately, Anthony and his brother spent a lot of time in the hospital this year.
On May 18th, Arrowhead students wore blue and gold in support of Anthony and the CF walk.
Mikayla Endisch is the Vice President of HOSA
"As a team at Arrowhead, we can honestly just spread Anthony's love for life. Seeing how happy he is everyday is so inspiring to me, considering everything he goes through on a daily basis. Arrowhead can show their support and raise awareness by just being aware of what Cystic Fibrosis is and how it affects people. Anthony inspires people everyday by how energetic he is and how much he loves life, even though his situation is extremely tough to live with. Anthony's main goal is really just having people be happy and smiling as much as possible," said Endisch.
Traci Pham, a senior at Arrowhead, is the President of HOSA.
Early in the fall of 2016, Brenda King, the health science teacher, and Traci Pham started a chapter of HOSA at Arrowhead. It is an international pre-professional organization of students who are interested in the medical field. King and Pham kept the membership exclusive to students in the Health Youth Apprenticeship program, because they are students who are dedicated to work in the medical field. In the first year, they worked on projects like Music and Memory and Blessing Bag. Pham says that two members competed at the state level and performed extremely well. She says that one member qualified for nationals.
"The first time I heard of cystic fibrosis was when I volunteered for the Great Strides- Cystic Fibrosis Walk in Milwaukee through National Honor Society. The entire event and environment were so fun, inspiring, and just so full of positivity. For this reason, I introduced the walk as a service project at a HOSA meeting for the month of April and May. My relationship with Anthony began afterward as HOSA learned more about cystic fibrosis and brainstormed ways of fundraising and raising awareness. Anthony and his family had already done a fantastic job in raising awareness, and so we contacted the Sikorski family to see if they would help us. From there, Mrs. King and I worked closely with Anthony and his brother's mom, Jill," says Pham
Pham quoted Anthony. "Like he says, 'Donations are great and all, but to me, donations are second to support' (kinda paraphrased)."
Pham explains that Team Shake Shake in the past was top of the team nationally in the past and has done an incredible job fundraising. HOSA Hawks is the top fundraising team in the state and the support that they get is just as important.
Sikorski, Sobieski, Bennett, and Pham created the idea to send out a mass email of the video of Anthony.