Students React to Arrowhead's No Tech Days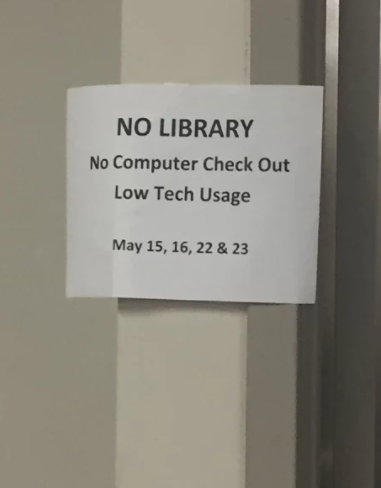 On May 15,16, 22, and 23 Arrowhead High School will be experiencing no tech days. During these days, students are not allowed in the library, they can't check out laptops, and they have no access to wifi.
Arrowhead staff is enforcing these no tech days due to sophomores taking the ACT Aspire tests. The ACT Aspire test is an online projective test to give students an idea of what score they will get on the ACT. To keep the testing running smoothly, Arrowhead is eliminating use of the internet and technology for all students not testing. Only two no tech days have occurred and students are already upset.
Paige Schaber, an Arrowhead junior, says, "I'm not upset there is no wifi because I need social media I'm upset because now I can't be productive in class. It feels pointless to be in school because I'm not getting anything done. My education isn't furthering by anything I did during the two no tech days so I'd much rather spend my time at home than at school."
Technology is often utilized in classes at Arrowhead. Students do online labs and simulation, use Google docs to work on projects with other students, and go to their teacher's website to check answer keys.  So, without the ability to use the internet, productivity has been inhibited.
Sophie Carey, an Arrowhead junior, says, "When they made it required for all students to have a laptop, Arrowhead centralized education on technology. Now we have days that it's taken away and classes are straying from current projects and lessons to adapt. It feels like unnecessary busy work to fill up time I could be using to do something much more productive. I'm struggling to see why students who aren't testing even have classes."   
Schaber says, "The physics trip is this Friday [May 19] and when we come back to school Monday [May 22] it's a no tech day. I need the internet to do my project and because there is no internet I am losing valuable work time."
Many students have expressed Monday as a popular day for assignments to be turned in. Some of these assignments are required to be printed but not all students own a printer or have one that functions well. So, they utilize the printer in the library but, with the no tech days students did not have access to this resource.
Schaber says, "I need that library printer. It's not my fault my printer isn't working and I can't just go out and buy a new one. If we aren't able to use the printers teachers shouldn't have assignments that require printing due today [Monday, May 15, the first no tech day]."
Some teachers have changed due dates to accommodate students who need the library to print. Angie Koch, an Arrowhead science teacher, allowed her chemistry students to turn in their labs that were originally due on Monday, May 15 on Wednesday May 17. This was after the no tech days for the week so students who couldn't print from home were able to print out the assignment.
Carey says, "I haven't heard one student not be somewhat complaintive about the no tech days. I can't say I blame them as I myself find the time spent in school during these days as useless. I understand why the school chose to have no tech days but it has hindered productivity of classes. With exams lingering in the near future students are stressed. These days would have been perfect to give the students a break before the home stretch of the school year."