A Student with Autism and His Teacher Reflect on Autism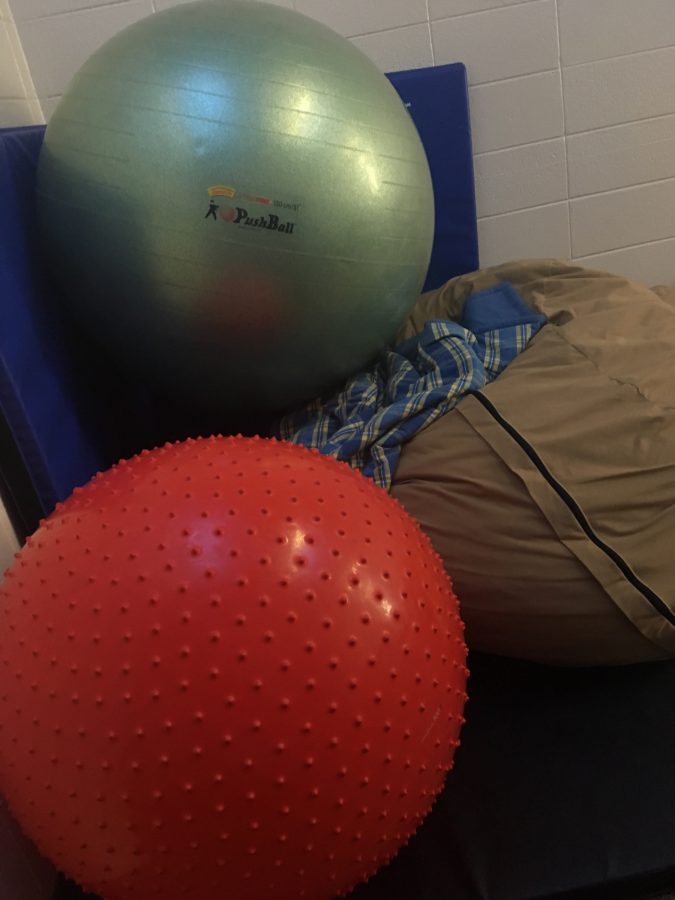 On February 9th, 2017, high school senior Ryan Schallhorn and one of his special education teachers, Heidi Hamilton, met in Arrowhead Union High School's Learning Center. The LC is where Arrowhead students with special needs receive tutoring and support.
In a back room lined with teachers' offices, Hamilton and Schallhorn sat in chairs, ready to answer questions.
Hamilton is Schallhorn's case manager and says that Schallhorn asks a lot of questions for clarification. She also says, "He has some tests ready orally to him."
Schallhorn says he was diagnosed with autism "around kindergarten." Today, Schallhorn is the manager of the boys varsity basketball team. He says because of his role on the team, he's learned to be more social.
"He is definitely a member of the team," said Hamilton. Hamilton's son is also on the boys basketball team, so she sees Shallhorn interact and assist the team.
According to Hamilton, Schallhorn meets all deadlines, he's very punctual and never late to anything. She described him as very conscientious and strong with computers and math.
Schallhorn says students and teachers can help him by clearly advising him or clarifying things and answering questions about things he doesn't understand.
Schallhorn works at Pick 'n Save and says he loves the routine and likes to have that routine set up for him.
As Hamilton asked him questions, she said that Schallhorn he feels somewhat different than others and yet somewhat the same. Throughout the conversation, Schallhorn often answered questions in one or two words.
Hamilton said, "[Autism is] hard to define because there's a spectrum where…students with autism fit on. Everyone has their own unique sense of self and unique challenges that they face. So it's hard to define it because everyone has their own needs…Although there is one definition of autism, every student has their own unique needs and…no two individuals are the same."
Schallhorn said although he's not doing what others have done yet, he will in time. He said what makes him feel different is that he has autism.
Autism Speaks, an advocacy group for people with autism, says that 1 in 68 children is affected and 1 in 42 boys is affected with autism. Boys are nearly five times more likely than girls to have autism. Autism Speaks says that autism is one of the fastest growing developmental disorders in the U.S. and can cost a family $60,000 a year on average. Also, there is no medical detection or cure for autism.
Nineteen-year-old Schallhorn says he is going to college next year.
"Accept him for who he is…everyone has their own strengths and weaknesses and people just need to be more open-minded," said Hamilton.
Hamilton says she has been working with students with disabilities for 24 years. Today, she says, "I think there are more services available for [students with autism], more opportunities, especially in the post secondary setting. There are colleges set up for students who have autism. One in particular is called Wisconsin Independent College…Whereas 20 years ago, there were no specific colleges with students with autism. I think the support services available now are tremendous and needed."
Hamilton says, "I wish people knew more about autism. This would help them accept [people with autism] and include them socially, athletically…[and] include them at lunch, include them in extra-curricular activities…and include them in social activities and functions."
She says, "What students can do is include [students with autism] in activities and get to know them as a person…I think teachers especially here at Arrowhead do a fantastic job of supporting [students with autism], including them in classrooms, while making accommodations as needed."
Hamilton says there are things other students can do to include students with autism: "If they see someone sitting alone at lunch, include them at their lunch table. Accept them, include them. Just accept them."
Hamilton says, "I think everyone's unique in their needs and we just have to include them and welcome them…I think Arrowhead does a very good job of that."