Veterans Breakfast at Arrowhead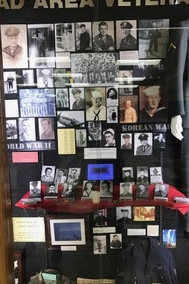 On Friday, November 11th, Arrowhead hosted their second annual Veterans Day breakfast for all people who have served in the military. Veterans who fought in WWII, Korea, Vietnam, as well as Afghanistan were present. The Breakfast was organized by Rho Kappa and began at eight in the morning and finished around nine thirty in the morning.
The morning started with a free breakfast for all in attendance, including family members and friends of the veterans. Then the south select choir sang, superintendent Laura Myrah greeted everyone, and Arrowhead senior  Connor Teel said a speech about what his freedom meant to him. A student from Swallow Elementary spoke about the new veteran memorial design and requested donations, and then the band ended by playing the medleys for each branch of the military.
After all of the events ended, students had the opportunity to speak to the veterans and listen to stories of their time in war.
"That was the most interesting part in my opinion by far. To think that the person talking to you has been through some of the most gruesome wars, and you wouldn't even be able to tell if you saw them on the street," says Teel, an Arrowhead student.
Teel, along with a group of Arrowhead students and staff, ran the breakfast through a club called Rho Kappa. Rho Kappa is an honor society for students who excel in social studies as well as out of school activities.
"This organization is awesome, all of us in this club love social studies and the events we set up, such as the breakfast, is like bringing what we learn in class and bringing it to real life," says Teel.
Some of the students brought their grandpa or grandma to the breakfast. One of those students, senior Natalie Jones, brought her grandpa and her grandma to the breakfast to share the moment.
"It was a truly inspiring moment to see my grandma and grandpa crying while listening to the navy medley, and it made me proud that my grandpa sacrificed his life for the freedom i have today," says Jones.
The speaker from Swallow Elementary, Mark Schoeppel, spoke to everyone in attendance about a contest he won for designing a memorial that will be built in Hartland to honor veterans. To make this happen, Schoeppel needs $50,000 to have the memorial built.
"I think it is important for our veterans to have this memorial for them. I know if my grandpa had a memorial built for him, it would mean the world to him and to my family. My grandpa takes so much pride in this country, he would come to the memorial every opportunity he could," says Jones.
For many this is not the last time they will be here,
"We plan on coming every year. There are only so many years left for our WWII veterans," says Jones.