Hockey and Basketball to Take Charge This Winter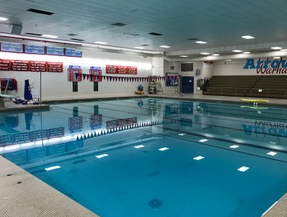 As Spring sports such as football, soccer, and field hockey wrap up their seasons, Winter sports begin. For several athletes, this Winter comes with high expectations.
Tommy Durand, an Arrowhead senior and varsity basketball player, says believes the basketball team will do big things. "This is our season, we have so much talent, especially in the senior class, so I think we are going to be able to go far in the playoffs and take home the championship."
The first game for Arrowhead is against Wisconsin Lutheran on November 29th in at seven p.m at Wisconsin Lutheran.
"It's going to be a big first game. We are coming out hard this season, because last season didn't turn out as good as we thought. Now, playing with a chip on our shoulder mixed with the talent we have, it's going to be exciting." Says Durand.
Last season, the Arrowhead basketball team finished with an overall rank of 49th in Wisconsin. In addition, the team has lost key talent players Brian Wilman, Nick Loke, Justin Peret, and Wes Meister.
"Yeah we did lose some key guys to our team, but there are also many players returning who are going to step up. I've played with a lot of these guys since grade school, so for it to be our final year together, it's going to be pretty surreal."
The first and only time Arrowhead has won a state title was in 2010, when they overcame Madison Memorial 72-51. Now the teams looks to do it again.
"For some of us, this is our last year. We're going to make the best of it." Says Durand.
Another sports team that is beginning its 2016 season with optimism is boys hockey. Returning from a second round loss in the playoffs to University School in Milwaukee, they plan to rise to greater heights this season according to the atheletes.
With 12 returning players from last years varsity team, with nine seniors, the team is appearing to be rich in experience and passion.
Jack Schlinsog, Arrowhead senior and three-year varsity player, says, "This year is going to be our best chance in a while. We have a lot of returning players and a ton of seniors. Most of the team is used to playing at the varsity level and really get our systems. Also, we have been playing together since we started so the chemistry is there too."
The hockey team has had change in the last few years. They have had three different varsity coaches in the last three years. Coach Mike Watt for season 2013-2014, Coach Josh Engel for season 2014-2015, and Coach Carl Valimont for season 2015-2016.
Coach Valimont is a returning coach to Arrowhead. From 1999-2009 and returned in 2015. He is credited with Arrowhead's only state championship in 2009.
Schlinsog says, "Coach Valimont is the best coach I've ever skated for. Practice is far from easy, and the hard work never seems to end, but if anyone knows how to make a good hockey team it's him. With the experience, talent, and leadership we have on this team, I really believe we can take home another championship."