Students Travel to Concordia Language Village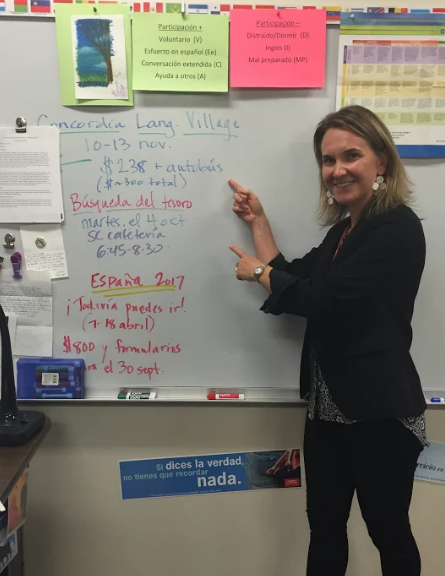 The Arrowhead Spanish department is sponsoring a trip to a Spanish Immersion Camp. The trip is to the Concordia Language Villages in Bemidji, Minnesota, where students will be immersed in Spanish language and practice using their Spanish speaking skills in authentic situations.
This is an annual event and this year it will take place from Thursday, November 10th to Sunday, November 13th, 2016.
An email from North Campus Spanish teacher, Amy Coraggio says, "This is a great opportunity for students to be immersed in the language and to use their skills in real life situations…At the camp, students will eat authentic food, interact with Spanish speaking camp counselors, play games, do activities, and dance and sing…It's a really engaging and educational weekend."
Coraggio says, "Knowing a second language is a very important and useful skill. Spanish is a great language to know and being fluent can offer many opportunities. Taking Spanish in school is a great thing, but being immersed in it is very important. You really start to gain appreciation and enthusiasm when you experience talking to people in a different language. This trip can give you a taste of what it's like to live in a Spanish speaking country."
Arrowhead senior, Natalie Jones went to the Concordia Language Village as a junior. She said, "It was an amazing immersive experience. I would recommend it for every Spanish student. The food was so good and the counselors were very friendly and patient with all the kids speaking Spanish. It's a cool feeling when you can actually use what you learn in school in real life to talk to people. The only place I ever really spoke Spanish was in class, but being forced to speak it in actual situations made me a lot more comfortable and confident in speaking…The bus ride was pretty long so I'd tell them to try to get their homework done on the trip and bring something for entertainment, and a pillow." The trip is 524 miles and the bus ride is expected to take about eight hours. The Spanish teachers in charge of the trip suggest bringing spending money for the bus ride for snacks and lunch because both are not provided.
Students who participate will miss two days of school on Thursday, November 10th and Friday, November 11th.
Coraggio says, "The teachers in charge of this trip expect students to make up all missed work on their own."
In order to participate, students need to fill out the registration form as well as the student health form. To find these forms, contact an Arrowhead Spanish teacher or Spanish teacher Kathi Koepke. In addition, a check for $238 made out to Concordia Language Villages is required. This payment covers everything for the four day experience including food, housing, and activities.
After signing up, another check is required for transportation. This payment is expected to be around $60, according to Coraggio.
There is scholarship money for students who would like to apply. Forms for the scholarships are also available from the Spanish teachers.
The deadline for registration is October 3, 2016. There are 30 spots available, so the first 30 students to sign up with their registration form, health form, and check to Concordia to their Spanish teacher will secure a spot on the trip, according to Coraggio.
The Concordia Language Village is considered an immersion activity by the Spanish Honor Society. In order to apply to the Spanish Honor Society, students must participate in three events. One event must be an immersion event. This is one of only three opportunities to get an immersion credit this year.
The Spanish Honor Society is open to all Spanish students who have passed semester one of Spanish Three and have a Spanish GPA 3.5 or higher and an overall GPA of 3.0 or higher.
More information for the Spanish Honor Society is available at www.arrowheadschools.org by clicking on "Activities" and "Spanish Honor Society." Or by contacting Coraggio at [email protected] or Spanish teacher Jeanne Psket at [email protected].