Gold in September® Inspires Hope To Beat Childhood Cancer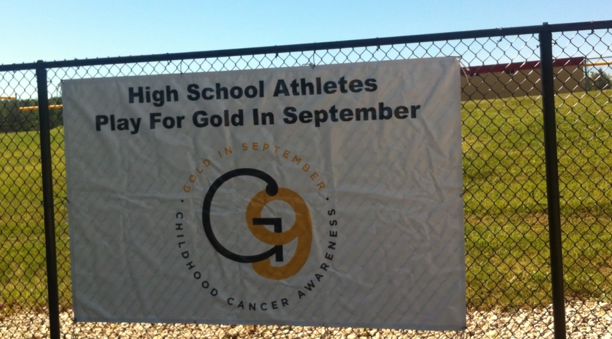 Hartland — Gold In September®, a nonprofit organization in Delafield, Wisconsin, was founded by 11 year-old Annie Bartosz to inspire hope, back research, and defeat cancer.
Bartosz created Gold In September after watching her twin brother, Jack Thomas, battle Stage IV, high-risk Neuroblastoma since September of 2005. After devastatingly hearing the news of the passing of Jack, 11 year old Annie at the time, envisioned a world free of cancer. Annie turned to her parents and asked them what the color and month childhood cancer is. Annie has heard and seen of pink in October. Her parents turned to her and said that it was gold in September. Therefore, Gold In September, the G9 Project®, was born. G stands for Gold and 9 stands for September being the ninth month.
Over the 2016 summer and beginning of the 2016-2017 school year, Gold In September® has been spreading golden hope. G9® inspires hope for childhood cancer and educates people on how to defeat childhood cancer.
Gold In September® said, "As the #1 disease killer of children, one in five kids diagnosed with cancer will not survive. With current treatments, 95% of the four 'survivors' will end up with a significant health-related issue, some fatal, by the time they are 45. Through global research, strategic partners, and innovative solutions, G9® is a catalyst for change. G9® stands for Gold in September. Gold is the national color for pediatric cancer and September is the recognized National Childhood Cancer Awareness month; together they make G9®."
"Gold In September (G9®) is the ultimate manifestation of the I Back Jack Foundation. G9®'s mission is to increase funding for childhood cancer research and initiatives by growing awareness that inspires action to help every child, everywhere. The goals are the same as the I Back Jack Foundation, but the scope and breadth are much bigger, wider, and far-reaching.  We will continue to relentlessly back research, inspire hope, and ultimately defeat childhood cancer. Moving forward, I ask you to please continue to "back Jack" by supporting G9®. Together, we must color the world gold so every child, everywhere, will survive cancer, " said Cindy Milgram, Special Projects Coordinator for Gold In September®.
The I Back Jack Foundation is an organization started by Sarah and John Bartosz, parents of Jack Thomas. The parents started the foundation to raise funds for childhood cancer awareness and to defeat cancer once and for all. Not only does the Foundation back Jack, it also backs those children who have to battle childhood cancer. Their goal is to inspire hope, back research, and to once and for all beat childhood cancer.
According to Sarah Bartosz, President of the I Back Jack Foundation and Gold In September Project® (G9®), "The I Back Jack Foundation is providing incredible, powerful, and targeted resources to meet these urgent needs and develop cutting-edge trials and treatment options in our common, unified fight for children. The relentless pursuit for cures leads the I Back Jack Foundation to back research, inspire hope, and, ultimately, defeat childhood cancer."
Aside from the the mission of the I Back Jack Foundation and G9®, the non-profit organization G9® was recognized as a finalist in the WaterStone Bank video contest, receiving a donation of three thousand dollars that will back research in hopes of defeating childhood cancer.
The Milwaukee Brewers support the G9® Project's mission in hopes of growing gold. Meaning, coloring the world gold and to inspire hope for children with cancer. A way for Arrowhead High School to grow gold is to spread the word using social media using hashtags & following users of the Gold In September Project, text links of the Gold In September website, and information to their friends, family, and relatives. Growing gold is spreading childhood cancer awareness using the color gold. If they have older siblings in college or at a job, they could ask their siblings to help spread the word there. Or one can spread the word to a sibling who is currently studying abroad.
Students anywhere can use the hashtag #growGOLD , #G9pennyWars , #ChildhoodCancer , #GoGold , #ChildhoodCancerAwarenessMonth , #ChildhoodCancerActionMonth , #HopeIsInfinite , #CCAM , #GoldTheNewPink , #BecauseKidsGetCancerToo , #BeBoldGoGold , #SupportCCAM and any more. Users they can follow would be
@I_BackJack
@GoldInSeptember
@StBaldricks
@TeenageCancerTrust
Kids and/or Adults can visit http://goldinseptember.com/
Students at Arrowhead High School can also ask their parents to spread the word at their place of work. Their parents could also tell people who are colleagues or relatives. Any action, big or small, can help raise funds and inspire hope to all children who have been unfairly chosen to battle childhood cancer. They can spread the word about the G9 Project®; September is childhood cancer awareness month and they can support it by wearing gold or yellow. They can post it on social media using the hashtags above. They can recommend the users above to others so others know what is going on.
According to Milgram, G9® organized Penny Wars programs for schools. G9® is partnering with McDonald's Restaurants in Southeastern Wisconsin and the Green Bay Packers to offer prizes to those who participated in the G9® Penny Wars. The Penny Wars started at the Penny Wars Kick-Off event at Arrowhead High School. Currently, the Penny Wars will begin when possible. Meaning, a Penny War at Arrowhead has not started, but can be predicted that it will start soon. In order for a Penny War to start, a school (elementary, middle, or high schools), teams, or clubs bring pennies & other money to be donated to the Gold In September Project to promote research and awareness. People can get involved by donating monies during Penny Wars. If a person wanted to start a Penny War at their school, they could e-mail [email protected] for more information if they want to start a Penny War at the person's school.
The Gold In September Penny wars will be taking part at St. Anthony from September 12, 2016 to September 16, 2016. According to St Anthony.cc, It is a week long event that creates a fun competition between grade levels, classrooms, clubs and/or school sports teams in order to raise funds for a good cause.
The object is to accumulate as many points as possible for the grade, classroom, club or team by adding and subtracting the value of coins and dollar bills. Students put their own pennies in a container belonging to their grade/team. One point is awarded for every penny in the container. Points are subtracted when students put silver coins or dollar bills into the containers of other classes. A nickel reduces the points by five, a dime by 10, a dollar by 100, etc. The class with the most overall points at the end of G9 Penny Wars is the winner and will receive a special dress down day and ice cream treat!
As of July 1st, 2016, the I Back Jack Foundation is now supporting Gold In September. The I Back Jack Foundation is the ultimate manifestation of Gold In September®.. If one heard of the I Back Jack Foundation and wished to donate, their donations will be made directly to the Gold In September Project®..
If a student wanted to donate money, they can do so if there is a G9® fundraiser going on. Or, they may mail the money to G9®.
Students could promote the project at club teams they play for, their confirmation/youth group and church, and at any extra school activity that is not associated with the school.
"I think it is for a great cause, to help childhood cancer, and helps lots of children around the world who suffer from this disease," said Alexis Nyren, a sophomore at Arrowhead Union High School.
According to G9® and the I Back Jack Foundation, Aaron Rodgers supports Annie Bartosz, Founder of Gold In September®, and her family. He has been a great big brother to Jack during his battle, a great friend to Annie and to the family. He supports her golden dream to grow gold for her twin brother Jack.
G9® is spreading everywhere. During the summer, the Oak Mall Shopping Centre support the G9® Project for Childhood Cancer Awareness Month in hopes of growing gold.