Students, Teachers Give Advice for Incoming Freshmen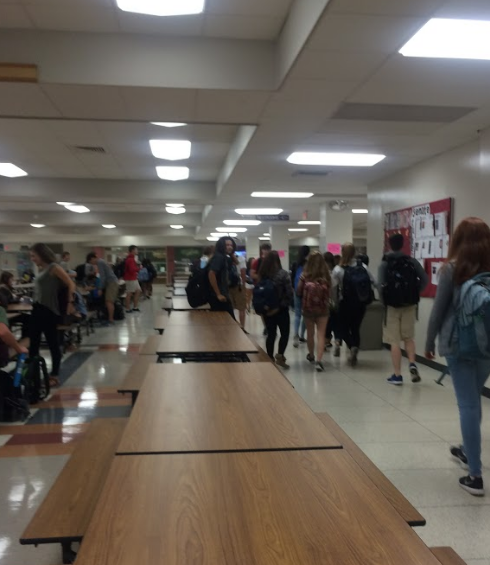 The first day of a young teenager's high school career can appear terrifying when students don't know where or how to begin. Arrowhead students face many adjustments
throughout their four years of high school. Students often say freshman year is the most difficult due to the adjustment of a new building along with new faces.
Arrowhead High School has created opportunities for freshmen to get to know the foreign land in which Arrowhead calls, "One Team."
Wings is a program opportunity that lasts three half days. This past year, Wings was from  August 17 through  August 19 from 7:30am – 12pm at South Campus. According to Arrowhead Schools Website, Wings consists of social group activities for freshmen to get to know their campus, academic programs, policies that are institutional, along with meeting new people.
Lexie Newman, a junior said, "In Wings, I liked that I was able to be shown around the school. It gave me a slight idea of what high school would be like as well as making me comfortable in my new school. Plus the activities were fun and my counselors really helped too making going into high school not as big of a deal as I  once thought it was."
Newman says, "Now honestly I don't even know why I thought it was scary…It was also nice to be with other freshmen. It let [me] know you aren't alone and gave you an opportunity to make friends before the awkward, scary first day."
"I enjoyed meeting the new people. Wings also gave me a good idea of what the school was like, I would have been lost without it," says Abby Zettl, a sophomore.  
During the first and second week of school, students are to see their counselor and talk through how they are adjusting to their new lifestyle.
Reannyn Mathieu, a junior at Arrowhead High School, says, "The biggest piece of advice I have for incoming freshmen is finding your perfect balance. Freshman year, I cared too much about the social aspect of school rather than the academic part, and my grades suffered. Finding a balance between having fun and working hard is a difficult thing to do, but it may be the most important thing you do. Focusing all your time on school can hurt your relationships, but focusing all your time on your relationships can hurt your grades. Finding balance is key. The second biggest piece of advice I would give is have fun. Freshmen year happens one time and too many people make it absolute life and death. Keep yourself happy, healthy, and calm. Being happy with yourself comes before anything else."
From choosing your electives to extracurricular activities, freshman year the time for students to start exploring their interests.
Maggie Wills, a senior at Arrowhead High School says, "My main advice to incoming freshmen is to branch out. It's so important to try new things and get involved. It really makes the high school experience so much more enjoyable. Whether that means taking a class you wouldn't normally take, joining a club, or even just talking to people you never thought you would. I waited until my junior year to really try new things, but I found that that year actually was my favorite. I met some really great people who looking back on freshmen year I never thought I'd be friends with but been great having that variety and different types of people in my life has made it so fun. I've definitely tried to involve myself in the school and participate in programs and it's for finding new interests and people. So to conclude, like I said branch out. Don't just follow the norm or stick to whatever your friends do, because by doing what you want you'll enjoy it so much more and meet more people along the way."
English Teacher Terri Carnell says, "My advice would be to have fun and do their best because doing well in high school will set them up for success in the future."