Future Warhawks Enroll in Special Summer Classes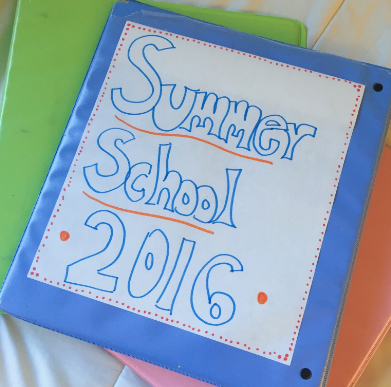 Students from 4K through 8th grade, ages 4 to 14, who attend Arrowhead feeder schools have the option to enroll in summer school classes. These classes give students an opportunity to learn in a comfortable environment over the summer.
Rochelle Witter, a former summer school teacher, said, "This program is a great way to keep the students' minds engaged over the summer. From past experience I can tell that the kids enjoy being at Summer School, for they are always sad when it comes to the last day."
Cecelia Schliepp is the coordinator of this education system. She hires teachers/aides, creates class schedules and answers any questions from parents. Nicole Brown is Schliepp's assistant. These ladies are the main organizers of this program.
According to 2016summerschool.com, Stone Bank School hosts the Arrowhead Area Summer School Cooperative this year. Their location is N68W33866 County Road K, Oconomowoc, WI 53066. Summer School starts at 8:00 a.m. and ends at 12:00 p.m every Monday through Friday. It runs from June 15th to July 13th. There were no classes on July 4th or 5th.
There is not a registration fee for this program, but there are course fees. Each course fee is a different amount. These fees range from $3.00 to $20.00. Some of the courses include American Girl, Superhero Adventure, Mock Trial, and Reading/Writing Camp. If a class does not have enough participants registered, than the course will be cancelled and students will have the option to enroll in a different class.
Students had two options when it came to transportation. They could either take a car, or the bus. Students living in the Stone Bank School district are dropped off and picked up by a parent or guardian. However, if a student does not live in this school area and wishes to take a bus they are dropped off/picked up at Lake Country, North Lake, or Richmond. Buses take kids to and from Stone Bank.
Children from the ages of 4K to 8th grade are allowed to enroll in classes. There are three class hours available to choose from. First hour is from 8:00 a.m. to 9:20 a.m. Second hour begins at 9:20 a.m. and ends at 10:40 a.m. Third hour lasts from 10:40 a.m. to 12:00 p.m.
Not only does this summer program provide future Warhawks with a chance to learn over the summer, but it gives current Arrowhead students the opportunity to get a job working with these children. The aide positions have been fulfilled by many Arrowhead students.
Kaitlyn Beth, an aide for Sports Galore and Playground games, and a senior at Arrowhead, said, "I decided to apply for a summer aid position because I have an interest in becoming a teacher of some sort. I also enjoy having a closer connection with the kids, and getting to know them one on one."
Arrowhead's Area Summer School Cooperative works hard each year to provide a good experience for future, and current Arrowhead students. This program has received many positive reviews over the years, and students continue to enroll year after year.