Growing Up and Moving Out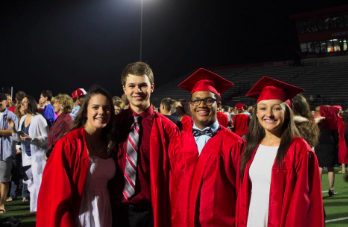 With the end of the high school comes the beginning of a new life for Arrowhead graduates.
College is a major milestone in the lives of all who attend. The few that decided to wait a year or to not attend college at all have a new life to figure out also.
Saying goodbye to their friends and family to go live in a new place all alone creates nothing but excitement for some people, but loads of fear and uncertainty for others.
Kristi Peret, a 2016 AHS graduate, will be attending University of Whitewater in the fall.
"I am ecstatic to start. Whitewater has always been a school that I feel lucky to be attending , but I'm beyond terrified to leave my friends and family behind," Peret said.
This seems to be a common response amongst the 2016 grads. Not knowing quite what to expect, not knowing how to feel about it, a lot of uncertainty.
Mariah Zuzick, one of Peret's classmates, will be attending the University of St. Cloud this fall. She's feeling almost the same about her soon to be college life.
"I've always struggled a little during school, so the actual college part scares me more than I care to admit. What really makes me nervous is leaving behind all that I know to be normal and having to make all new friends. There's no one to guide you through any of it. It's terrifying and exciting. My close friends have helped me through so much, and for that I am very appreciative."
The jump from high school to college is too much for some students to handle their first year out.
Hunter White, another 2016 AHS graduate, is taking a year off to decide if college is something he feels comfortable doing.  
White said, "I want to take a year to just live my life. You go right from high school to college, then from college to a career. If after a year I think I'm ready, I'll look into colleges. I wouldn't even know what to major in if I were to attend right now; I'm hoping to use this year to find out. Working for me right now is something I hope will influence my decision."
Being the one who's leaving or the one staying back are both hard positions to be in.
Saying goodbye is what most Arrowhead students dread the most. Family and friends are very important to students like Michael Foulkrod. Foulkrod is attending University of Platteville this coming fall. Foulkrod said, "Even though my school isn't a million miles away, I'm still going to miss everyone so much. I don't want to leave anyone behind because I have such strong relationships with my friends and family. It will hurt a lot to go, but it's something we all have to do."