Motivation and willpower is the key to staying fit for the summer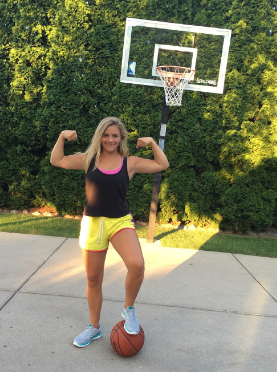 Make the most of the summer season by finding activities that are fit for staying healthy.  During the summer there are plenty of activities to do both inside and outside.
     Waking up for school is a mandatory job day in and day out.  Choosing to stay fit and eat healthy is a commitment.  Whether it's walking, running, or swimming, these are all components of staying in shape.  Summer months make exercising easier to do.  For example, the weather is more in favor of allowing people to exercise outside.  Your opportunity for choosing a healthier meal is also much greater since more fruits and vegetables are available in local grocery stores.  
With the weather being nice, it allows individuals to take advantage of exercising  outdoors.  Some of the activities that can be done during summer are paddle boarding, swimming, and hiking.
Kyle Stemper, a senior at Arrowhead High School stated, "I enjoy the warmer weather and longer days during the summer because I have the opportunity to run outdoors at our  park. It makes running a lot more fun and challenging when I can utilize different trails to run on rather than just the sidewalks and roads in neighboring subdivisions. When it's cold out, my choices become very limited as to where I can run."  
Finding the motivation to stay fit at anytime of the year can be difficult.  Once school is back in session, people's schedules become hectic and chaotic.  Just finding the time to go for a walk can be hard.
Motivation, willpower, and eating healthy can be the key for most people for staying fit  during the school year.  Knowing that nicer weather will start to happen, people start to think about how their bodies are going to look for spring break and summer vacation.  This can give a lot of people inspiration to want to look good and eat healthy.  
Many times, the only way to exercise during school if you don't play in a sport or belong to a club, is to join one of the local fitness gyms.  Not only can that be expensive, but finding the time to go on a regular basis can also be difficult.
According to Kiley Beth, a previous student at Arrowhead High School said, "When I went to high school my time was focused on homework and getting good grades.  Staying in shape wasn't my top priority.  However, once I went to college, I realized that there was more to just worrying about grades.  I was concerned on how I looked. I found that by making the time and committment to go to the gym I started feeling better about myself.  I also realized that eating cafeteria food was not the most healthy for me.  Now that I'm home from college I also know that making better choices of what I eat has made a big difference in my lifestyle.  I have more energy and I like the way that I look."  
Staying motivated and having the willpower to exercise and eat healthy can make for a better summer.  Motivation is the key for staying in shape.  Whether it's summer or winter, having the willpower to exercise is just the first step in becoming fit.