Lake Country's Glowing Sky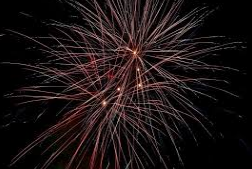 Fourth of July is one of the most celebrated holidays in America. It's the day we celebrate our independence with parades, cookouts, fireworks, and lots of fun!
The Lake Country area offers many Fourth of July activities for children and families.
Nixon park has its annual fireworks and parade this upcoming weekend. The fireworks start Friday, June 24th at 9:30 pm and the parade on Sunday at 1:30pm.
Pewaukee beach also offers an independence day festival. On July 4th, you can find food vendors, live music, water sky performances, and, of course, fireworks all throughout the day on both the beach and the road around it. The celebration goes on all all day, with the water sky show at 6:45 and the fireworks at dusk. The Pewaukee beach fireworks are a tradition for many Arrowhead families. The festivities are fun for all!
Vivian Barajas, an Arrowhead Senior, said, "Every year my family gets together and has a cookout then at the end of the day goes to see the fireworks at Pewaukee beach. It's fun to have a day to spend time together outside of Thanksgiving and Christmas."
Another big tradition for Arrowhead families is the Kettle Moraine Days. It ends the day with fireworks after a long day of festivities.
These community events are a large part of Fourth of July for many families and each year bring us closer and they become bigger and better. Be sure to check these activities out this year!