Arrowhead Drama Department Produces Spring Production: 'Makin' It'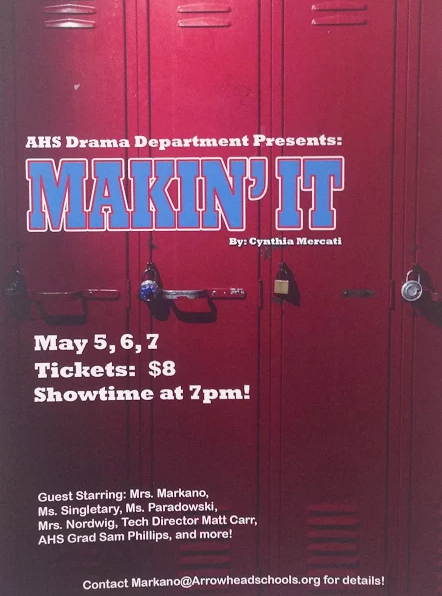 The Arrowhead High School drama department will be putting on the drama/comedy play, Makin' It. The play will be shown on May 5, May 6, and May 7 at 7 PM in the North Campus theatre.
Arrowhead's drama department produces two shows annually. Maralynn Markano, AHS English and theatre teacher, leads the Arrowhead drama department through the production of each show.
The spring show, Makin' It, is about many issues that everyday teens must face such as peer pressure, social status, physical appearance, family conflicts, and more.
Markano says, "Though the story takes the audience through quite a few highs and lows, the end, of course, is optimistic, that even though we all have our doubts, our fears, our insecurities, and our worries, we are going to make it."
The drama department is separate from Arrowhead's Broadway Company. According to the Arrowhead website, shows produced by the drama department are open to all students in all grades.
The plays produced by the drama department vary from drama, comedy, mystery, classic, contemporary, and musical productions.
Markano says, "As the director, I put many hours into the production before we even have auditions: getting to know the characters, planning the set, the lights, the props, and planning rehearsals."
There were 25 rehearsals for the production Makin' It, each about three to three and a half hours in duration.
"We spend those rehearsals learning the characters, the relationships, exploring how to communicate the proper emotions to the audience."
This year's drama department added characters to the original production of Makin' It.
"We also added 10 extra characters into the show — that were not scripted.  So ALL the background acting that is in the show has been created by the creativity of the students involved.  We spent a lot of time discussing different types of characters and relationships that we could integrate into the show naturally. Then we spent time finding the key places that we could do so without sacrificing the integrity of the script. Yet, those extra characters, for me, are just as important as the ones who were included in the playwright's script. They each have their own storyline to follow.  An audience member might want to come multiple times in order to really appreciate all of the details that have gone into the show," Markano says.
Tickets to attend the show cost $8, and can be purchased online here. Tickets can also be purchased at school during lunch, or at the door of the show.