Broncos QB Crisis: The Search for Manning's Replacement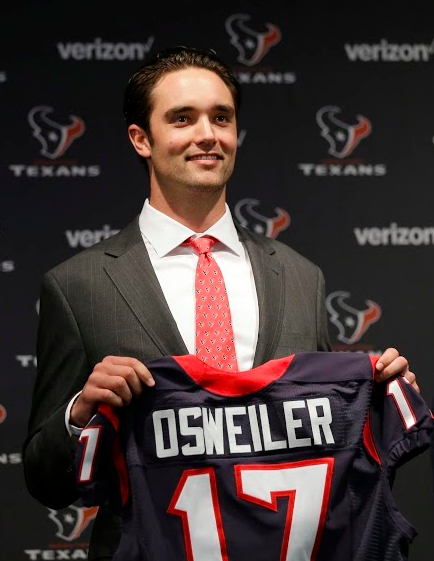 It has been chaotic recently inside the NFL, whether that be through free agency, trade deals, or team dilemmas. One dilemma in particular is within the Denver Broncos. Currently, the Super Bowl champions are facing some tough decision in replacing now retired quarterback Peyton Manning. On top of this, the Broncos' running back, C.J. Anderson has struck a deal, which will send him to Miami.
On March 9th, Broncos QB Brock Osweiler agreed to a four-year, $72 million deal with the Houston Texans. This deal h put pressure on the Broncos organization, which is now in a search for a quarterback.
Osweiler started seven games in 2015 before being benched for Manning in the third quarter of the Week 17. Osweiler was then forced to watch from the sidelines as Denver went on to clinch a third Super Bowl title.
Yahoo! Sports interviewed Osweiler on his transition to the Houston Texans: "'I had a tremendous four seasons there in Denver and those are four years I'll always hold very close to my heart,' Osweiler said arriving in Houston at George Bush Intercontinental Airport, 'Coming to Houston was an opportunity that I couldn't pass up. What I see with this football team is something special. I believe this organisation is on the cusp of doing something great. That's something I want to be a part of. I'm very excited to be here and just get to work.'"
Just announced on Friday, the Broncos picked up Philadelphia Eagles QB Mark Sanchez for a conditional draft pick. This news was Tweeted out by journalist, Mike Klis, of 9News.
Arrowhead sophomore, Hayden Henning, seemed shocked when he heard the news about Sanchez.
"I did not expect the Broncos to pick up Sanchez," said Henning. "I thought there were so many other options that they could have chose, but who knows. The Broncos may pick up another QB that is better in the next few weeks."
Now that the Broncos have obtained a QB after the loss of Osweiler, the question is, will the Broncos benefit with Sanchez?
That is something that NFL fans would have to wait and see once the 2016 NFL season rolls around.
The NFL 2016 regular season officially kicks off on Thursday, September 8th.