Texans Release Franchise Running Back Arian Foster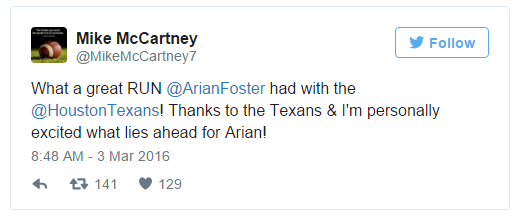 As the NFL dwindles into the offseason and past the NFL Combine, the free agent market is gaining more and more players. This is because of contracts reaching their ends or because of teams releasing their players.
On March 3rd, the Houston Texans released their franchise-leading rusher, running back Arian Foster. Foster has struggled in recent years with injuries that have prevented him from getting and staying on the field, including this past season.
Foster has only played in 25 of 48 games from 2013 to 2015. This past season, Foster missed three early matchups with a groin injury, and then he was knocked out for the year when he tore his achilles against the Miami Dolphins on October 25th.
Yahoo Sports' Shalise Manza Young, reported that the Texans confirmed their actions about Foster on Twitter, and quotes general manager Rick Smith in her article, "Texans release franchise-leading rusher Arian Foster": "'There are not many players I respect more than Arian Foster. He maximized his opportunity as an undrafted college free agent and worked to become the most productive back in franchise history, and one of the most complete backs in the NFL during his tenure with the Texans. Arian has contributed much, and meant a great deal to the success of the franchise over the past seven seasons and wish him only the best as he continues his playing career."'
Arrowhead junior and Foster fan, Andrew Hanson, said, "I couldn't believe the news that Arian Foster was being released. But at the same time, it was kind of clear that the Texans were going to have to get rid of him because of all his injuries over the years."
With the release of Foster, the Houston Texans will be saving roughly $6.6 million against their salary cap.
An undrafted free agent out of Tennessee in 2009, Foster became a four-time Pro Bowler and was selected All-Pro in 2010. In that 2010 season, Foster had 1,616 yards and 16 touchdowns on the ground, as well as 66 catches for 604 yards and two receiving touchdowns.
Foster will now be ready for the taking as he heads to free agency.
Other free agent news recently include the releasing of Carolina Panthers DE, Charles Johnson; Atlanta Falcons WR, Roddy White; and Buffalo Bills DE, Mario Williams.