Intramural sports create healthy release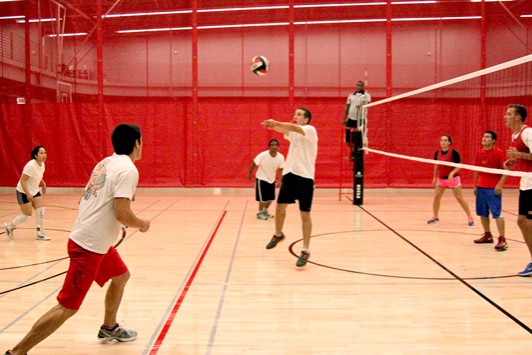 What do you do if you're not in a varsity sport at Arrowhead? Do you sacrifice your love for sports and focus on school work? Perhaps learn an instrument?
The Arrowhead intramural program is a solution for students looking to participate in a sport. Offering volleyball, basketball dodgeball, and more, Arrowhead's intramural program is for any student. To sign up for one of the intramural sports, ask Mrs. Arsnow for an application in the activities office.
"It's a fun thing to look forward too after school," said sophomore Lawrence McMullen, who plays intramural volleyball.
"I wasn't going to be that committed to volleyball as a varsity sport," says sophomore Seamus Prendergast.
The program evolves every year and is driven by the students need.
"If the students want a cricket league they can have one, and if they want a basketball league they can have one too." said senior Sam Boler, "That's the cool thing"
This year the students are promised at least three sports. Volleyball, basketball and dodgeball, with the opportunity for an ultimate frisbee league according to Liz Arsnow.  
Last year Arrowhead offered broomball and bowling along with the usual offerings in basketball volleyball and dodgeball.  Bowling will not be offered due to the demolition of the Hartland bowling alley along with broomball which was canceled due to lack of participants.
According to the Arrowhead school website," the idea behind intramurals is to provide a safe place where students can have fun, meet friends and exercise the Arrowhead way, be appropriate, be responsible, and be respectful. "
Leave a Comment