AHS Football Extends Their Win Streak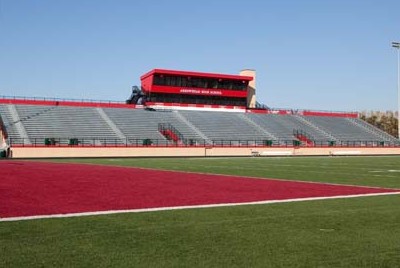 On Friday, October 2, the weather was clear with a high temperature of 54° F, dipping down to the low of 45° F. This chilly night was also the night the Arrowhead varsity football team played a dominating rivalry game at Kettle Moraine, beating the Lasers 34-14.
Near the beginning of the game, the Warhawks had a quick advantage over the Lasers.
Arrowhead scored a touchdown pass on the team's second drive of the first quarter, making it 7-0.
Arrowhead controlled the lead for the rest of the game and by the end of the half, they scored a couple more touchdowns and extra point attempts to make it 21-0.
Each set of bleachers were packed on Friday night as the second half commenced.
With a 21-0 Arrowhead lead, Kettle Moraine tried find a way to score points in the second half.
Throughout the last two quarters of the game, the Lasers found a hole in the Warhawk defense and were able to score two touchdowns.
But Kettle Moraine's two touchdowns were not enough to shut down Arrowhead.
The Warhawks ended scored an additional 13 points during the second half, to keep a solid lead and win.
Brady Harder, a junior at Kettle Moraine High School, who attended Friday night, said he wasn't surprised with the outcome of the game.
"I expected Arrowhead to win because they have size and athleticism," said Harder. "Usually, teams don't have a bunch of big guys who are also really coordinated."
After winning against Kettle Moraine, the Arrowhead team practiced for their last home in the regular season, which was Friday, October 9. This game was another Classic 8 matchup against the Waukesha South Blackshirts.
The Blackshirts were 1-7, including 1-3 on their home turf and 0-4 away. With only one win this season, Waukesha South was looking for another.
Arrowhead was 7-0 and Friday, October 9, was their opportunity to add another win to their record. The game was important because of Arrowhead's undefeated streak–and because it was another conference matchup.
Alex Nannetti, a junior at Arrowhead and right-tackle for the football team, says he was looking forward to what his team had to offer during their last home game.
"Well, I think we are going to play hard, we got to play physical, and I think we'll do good. We just got to play to our ability," Nannetti says. "We are focusing on what we can do as a team and also focusing on ourselves."
With their win streak on the line, Arrowhead was looking to get another win on their belt in order to have the upperhand when the playoffs come around. They achieved this, and won 46-7.
Leave a Comment