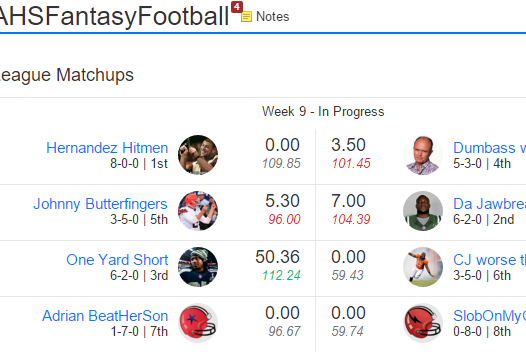 October's Impact on NFL Fantasy Owners
Fantasy football season has now hit the midway point, and a lot has changed since the beginning of the year. AHS students have had an up and down road this season, and are getting closer and closer to the playoffs.
As we do for every month, we take a look at star players, surprising playmakers in the waiver wire (a place to grab undrafted players), and critical injuries that impact rosters.
Leading the way for most points by the quarterback positions is a man who was supposed to start his season midway through the month. New England quarterback Tom Brady, after having his four game suspension overturned, has dominated the NFL fantasy season scoring at least 22 points every game. He has 13 touchdowns in the last four games.
Atlanta Falcons player, Devonta Freeman, has shown that he can be an elite running back in this league. Freeman is leading all running backs by 60 fantasy points. He has 10 touchdowns and over 1000 total yards in just six games. He broke former Dallas running back Demarco Murray's record last year by scoring the most points in a five game period by a running back since the 1960 merger according to Yahoo! sports. This past month, Freeman rushed 414 yards with two touchdowns and gained 157 receiving yards with one touchdown.
Atlanta Falcons wide receiver, Julio Jones, still is the leading receiver in the league and has painted the way of consistency. Also, still at the top of the wide receiver list and right behind Jones is Houston Texan, DeAndre Hopkins.
Injuries this October have been devastating for fantasy owners, especially in week eight. Many key injuries happened that changed fantasy owners teams.
Star running backs Jamaal Charles of the Kansas City Chiefs and Le'veon Bell of the Pittsburgh Steelers are both on injured reserve, as well as wide receiver, Keenan Allen who is on the San Diego Chargers. Chicago Bears running back, Matt Forte, also got injured with a sprained MCL, but will be out for only a couple weeks.
As for the season ending players, Jamaal Charles tore his ACL during the Chiefs matchup against the Bears in week five. Recently in week eight, Le'veon Bell tore his MCL against the Minnesota Vikings and Keenan Allen got an unusual injury of a lacerated kidney against the Baltimore Ravens.
Adam Nannetti, an AHS sophomore, had Jamaal Charles on his fantasy football team.
"Jamaal Charles was the best player on my team and now I am relying on DeAngelo Williams who I thankfully picked up." said Nannetti.
So for the injuries that happen around the league, fantasy owners need to pick their back ups. If DeAngelo Williams, back up running back for Pittsburgh, is available in your league, that needs to change.
With Le'veon Bell out, DeAngelo is now the starting running back in Pittsburgh. Another running back now in charge is Chicago Bears running back Jeremy Langford. With Matt Forte out for an unknown amount of weeks, Langford will see some action.
Jeff Dickson, a Chicago times reporter, was interviewed by ESPN about Langford.
"It would be a surprise if RB Jeremy Langford did not get 20 carries against the Chargers," says Dickson. "The Bears have dubbed Langford their feature back with Matt Forte (knee) out, and the feature role in Chicago usually comes with a boatload of touches."
October has also been full of players coming into fantasy relevance, some of which are rookies. Veteran Cincinnati Bengals quarterback, Andy Dalton, has become a top five player in his position this season and is leading his team on an undefeated streak thus far. He has thrown for 2000 yards and scored 17 touchdowns.
Rookies Stefon Diggs of the Minnesota Vikings, Amari Cooper of the Oakland Raiders, and Todd Gurley of the St. Louis Rams are in a battle for rookie of the year honors, all becoming top ten players in their position.
Gurley has become one of the best running backs in fantasy, rushing for more than 120 yards the the four games. He leads all running backs in points the past four weeks.
October has been full expectations, and some players have failed to fill those expectations.
Packers running back Eddie Lacy was drafted first overall in 21% of Yahoo! leagues, and is currently the 37th best running back in the league. Due to an ankle injury early in the season, he has shared carries with other Packers running back James Starks. He hasn't gone over his projection all year except week eight, which might be a sign of the rebirth of a healthy Eddie Lacy.
Broncos quarterback Peyton Manning has statically the greatest fantasy season in 2013. That was two years ago. Now, he is the worst quarterback in the league. He has gotten double digits only twice this year, and has thrown seven touchdowns and 11 interceptions.
Even though it isn't completely his fault, the month of October for Pittsburgh wide receiver Antonio Brown has been terrible. He was last years leading fantasy receiver, so he was selected in the first round of over 90% Yahoo! fantasy leagues. W
hen Quarterback Ben Roethlisberger went down in week three, Browns numbers fell drastically. He averages 13.23 fantasy points when Big Ben plays. But when he doesn't play, he averages a pitiful 4.08 fantasy points. Now that Big Ben is back, NFL.com experts are optimistic Brown's numbers will go up.
All stats used in this article are according to Yahoo! sports.