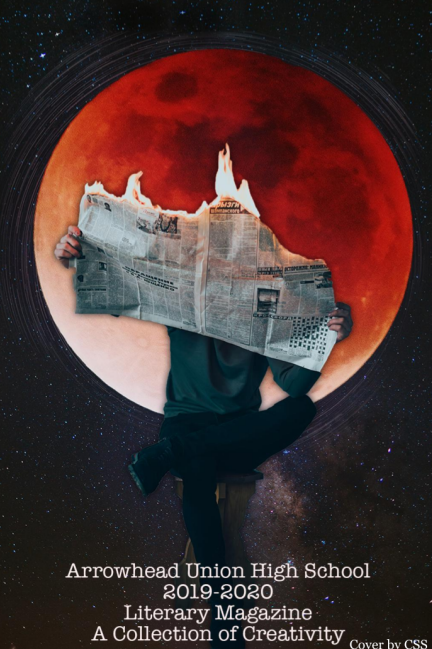 The 2020 Arrowhead High School Literary Magazine, A Collection of Creativity, was selected to receive an Excellent rating by a National Council of Teachers of English program.  The NCTE Recognizing Excellence in Art and Literary Magazines (REALM) program promotes student-led literary publications and encourages schools to develop arts publications.
"The mission of NCTE's REALM program is to publicly recognize excellent literary magazines produced by students with the support of their teachers. REALM is designed to encourage all schools to develop literary magazines that celebrate the art and craft of writing," said NCTE Executive Director Emily Kirkpatrick via an email to literary magazine advisor Elizabeth Jorgensen.  
The 2019-2020 Arrowhead literary magazine, A Collection of Creativity, includes poetry, short stories, and essays.  This edition of the literary magazine was edited by 2020 Arrowhead graduates Savannah Kortis and Alayna Schneider.  Language arts teacher Elizabeth Jorgensen served as the faculty adviser.  
"I think the Arrowhead lit mag completely deserves the ranking of  excellent. It's very impressive that it is put together by students and that it's not just written works but visual ones too of photos and drawings, digital and hand-drawn too," says senior Lexi Morgan.  
Two of Morgan's works were published in the 2020 literary magazine.  She had written the pieces in Jorgensen's Creative Writing Class, which is how she learned about the magazine.
Morgan encourages students to submit their work to the literary magazine, saying, "It's really cool to be in the mag because they keep all the copies from different years in the library and you can look through old students' work. It kind of memorializes you at high school, a lasting legacy."
Jorgensen says, "Any current Arrowhead student can submit. We accept everything creative."
Students interested in submitting their work to this year's literary magazine can email their work to [email protected] or speak to student organizers Joanne Brack and Rachel Gebhard.