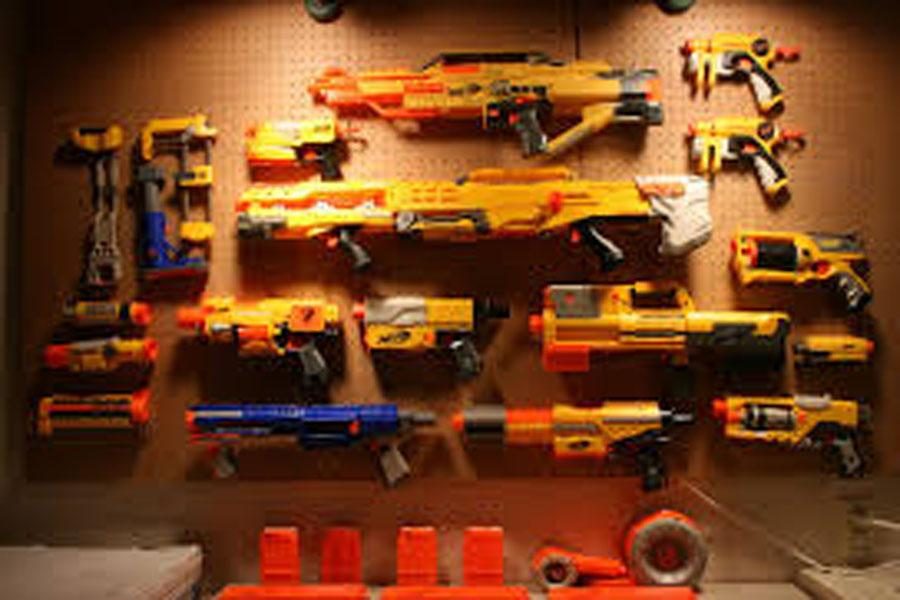 Seniors at Arrowhead High School are preparing for Nerf Wars. They are scheduled to start on April 29th and end on June 9th, 2019. Arrowhead High School does not condone Nerf Wars and this is completely run and ruled by Arrowhead seniors.
The game consists of teams playing in a bracket. The team with the least amount of seniors shot wins the game.
Each senior player needs to pay $5 per person, or $25 per team. There is a limit of five people per team. The deadline to submit teams and money is Friday, April 18th.
There is a grand prize for the winning team. The winning team will receive each team's $25 entry fee. As of right now, that is $1,200. This means, each player on the winning team will receive $240.
A Twitter account was created in April of 2019 specifically for Arrowhead Nerf Wars.  @ArrowheadWar. Here you can find the rules to the game, the teams, and updates.
"The rules of the game consist of the following: Arrowhead campus is OFF LIMITS completely. Prom day is OFF LIMITS. NO shooting at school events such as practice, games, plays, dances, ect. until after in the school parking lot. NO shooting players while they are clocked in or in their work building, and must wait until after they are clocked out and out of the building. Must be COMPLETELY nude to be immune to shots. (No nipple covers, any type of underwear, socks, or anything on the feet.) NO shields. (Portable objects like towels, blankets, Nerf shields, etc.) ABSOLUTLEY NO PICTURES ALLOWED. If photos are taken then your team will be disqualified…) NO breaking into cars or houses, this can lead to disqualification. NO blackmail or torturing of any sorts and this will lead to disqualification. If a player is away on vacation or gone for more than one day, they are disqualified from the round of the week they are gone. NO physically helping other teams get players; this includes people who are not playing and other teams," writes @ArrowheadWar on Twitter.
There is a warning at the end of the rules stating that seniors should leave their Nerf guns at home or hide them because Officer Fryer was allegedly looking in cars last year during Nerf Wars. The Twitter account also says that participating in Nerf Wars can lead to consequences such as suspension or expulsion.   
Most senior choose to participate but others do not as they don't want to be involved in a game that could possibly lead to trouble.
Rachelle Baillon wrote "School Officials Ask Students to Play it Safe" for Fox 6 in 2013. In the article, she quoted Deputy Freyer: "Heard a rumor that a young man had jumped through a window to avoid being shot with a Nerf gun and possibly cut his eye."
Later in the article, Baillon wrote that "school officials say it's not an issue at school…but they are alerting parents to the game, in hopes they'll help keep kids from taking unsafe risks while playing. "
"I will not be participating in Nerf Wars because I couldn't find a team in time and I don't really feel like getting naked in front of people just so I wouldn't get shot. Plus I'm afraid of exposing myself and then getting in trouble with the police for public indecency. But I wish good luck to the other students," says senior Cecelia Phillips.
"I'm excited to play Nerf Wars. I think my team and I have a really good chance at winning. We have a great plan. I can't tell you about it, but it's foolproof. I am nervous about going places though. It's just going to make me nervous to be out in public now," says senior Abby Fritz.
"Let's just say I'm about to be $200 richer soon," says senior Joe McWilliams.