Four AHS Students win Teaching Today Wisconsin's Dream Career Essay Competition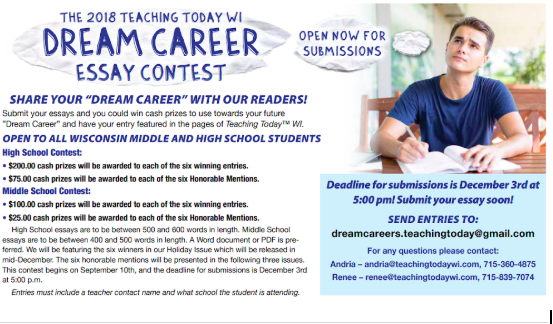 This fall, some Wisconsin students, including those  at Arrowhead High School, submitted essays about their dream career to Teaching Today Wisconsin's Dream Career Essay Competition. Submitted essays needed to be between 500 and 600 words and were due on December 3rd at 5:00 pm.
Teaching Today is a website that informs the public about current local, state, and national progresses in education, as explained on the "About Us" page on their website.
Four Arrowhead students were recognized in the Winter 2019, Volume 1 of Teaching Today Wisconsin's publication, including Junior William Meier, sophomore Nora Voght, junior Jordan Gravelle, and junior Megan Resch, each winning $200.00 and publication in the newsletter.
English teacher, Elizabeth Jorgensen, shared this contest with students in both Creative Writing and Journalism. She said, "I'm so pleased many of my students not only submitted, but also were selected as winners."
The publication wrote the following in their Winter 2019, Volume 1 issue: "We would like to say a big hearty thank you to all of the high school students and middle school students that shared their Dream Careers with us! Again this year, choosing the Winning and Honorable Mention entries was a very difficult task. As always, some entries brought a laugh, a smile and even a tear."
Meier wrote and submitted an essay about his dream being a doctor, and found himself winning first place and $200.00, along with a publication.
Meier used the repetition of the phrase "As a little kid" in his essay. He writes in his essay, "As a little kid, I thought this job would be lame. But now I have looked into it and shadowed professionals. In my dream career, I would have to deal with blood, surgery, and watching patients go right in front of my eyes. Being a doctor is a hard job but very necessary for society." His essay conveys a seriousness about this job, and he writes he is going to do everything he can to achieve his goal.
Voght also received the $200.00 first place prize and a publication for her essay titled "Navy Nurse."
Voght wrote, "I want to be a Navy nurse because nurses have a very important job; Navy nurses fight for our country, help others who have been hurt fighting, and provide high quality nursing care."
Voght says, "I think it's really cool that the organization has given the kids an opportunity to write an essay about what they love and what they want to do, and giving them an opportunity to win a large amount of money which can help them achieve what they want to do in their life."
Gravelle won first place as well with her essay, "Everything theirs isn't."
Her article will be published in an upcoming issue of Teaching Today.
She says, "I wasn't expecting to win this competition when I first submitted my essay to it. To be honest, I actually completely forgot about it shortly after submitting it. I, unlike the other winners, didn't write about a specific career I dreamed of. I first thought that could throw off my chances of being selected as a winner, but that clearly wasn't the case. I do not have an actual dream career, just a few vague ideas that I might or might not follow in the future. Not anything I could've focused a whole essay on. You can see the passion of the other winners' writing and their dedication to their dream careers they've already thought about and dedicated themselves to, while in mine, you can simply see my desire for something different than what I've experienced in life. I think that makes my piece stand out among the other winning pieces, and it's such an amazing honor to mine published alongside them."
Jorgensen says, "What Megan did in her essay was really emotional, specific and creative. I really enjoyed her essay and the thought she put in."
Resch's essay "Journalist" earned her an honorable mention by the website. She won $75.00 from Teaching Today Wisconsin.
Jorgensen said, "I am happy my students not only reflected on their dream careers, but also received recognition for their hard work, attention to detail and quality writing. I hope my students continue to follow their dreams, wherever they may take them."