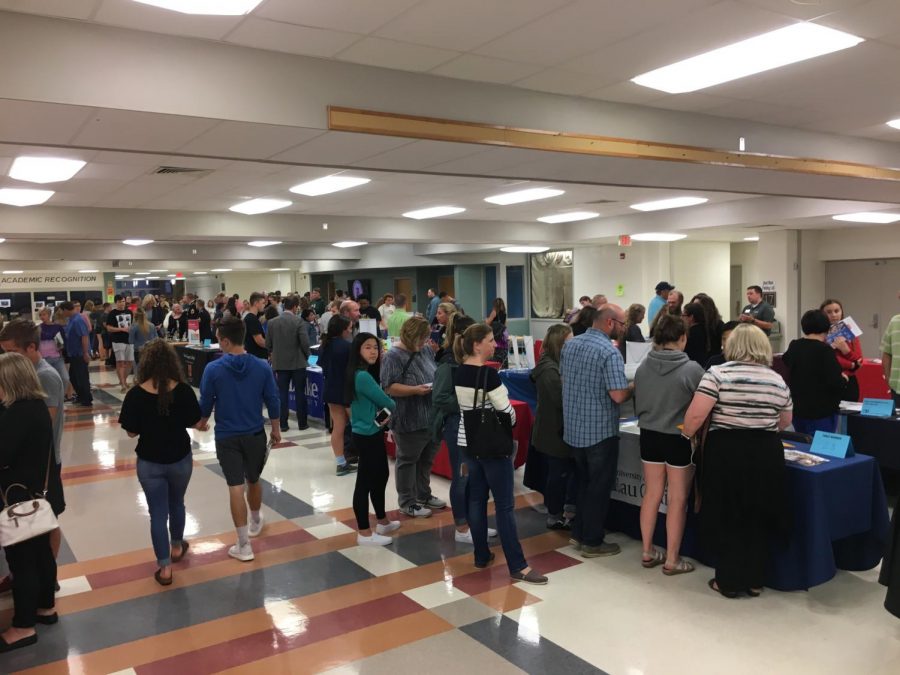 Earlier this week, Arrowhead's North Campus was packed with students, parents, and over a hundred post secondary school options. The 2018 Wisconsin Education Fair was held at Arrowhead High School's North Campus in the Commons from 6pm to 8pm on Tuesday, September 18th.
The Wisconsin Education Fair, also known as WEF, presented a variety of options for students looking for a path to follow after their high school career. These options included four and two year public and private schools, military schools, specialties schools, and different educational support options.
According to the WEF website, "Wisconsin Education Fairs, Inc. was created in 1978 with the goals of coordinating and improving the flow of information about post-secondary educational opportunities to high school students in Wisconsin."
The WEF says they want the program to serve the public by providing students with the opportunity to browse post-secondary options and meet with professional staff members. Additionally, WEF wants to supply students with information on school admissions, recruitment, and fall travel and visit schedules.
Alli Hofkamp, a junior at Arrowhead High School, attended the fair last Tuesday. Hofkamp says she was able to cross some schools of her list and add others that interested her more.  She says she started favoring certain schools over others because of the resources they had in her dream field. Specifically, Hofkamp found the information UW-Stout provided about the engineering department helpful.
Hofkamp says the resources helped her understand what schools were looking for in her interested field of study. While her favorite school, Purdue, wasn't at the event, Hofkamp was able to explore different post-secondary options.
North Campus Counselor for last names H-O, Todd Reineking, attended the WEF and offered students advice. Reineking says he was able to talk to parents and students about how overwhelming the fair might have felt. He believes that while the event might be nerve-racking, attending education fairs are important for students.
Reineking says students should have a dream school. However, he also suggests students prepare back ups. This way, when students get accepted to schools, they can pick out what's really important to them, whether it's price, location, or programs provided. He says education fairs are a great option for students to explore other schools.
Reineking recommends students check the school list for the national education fair, NACAC, at the end of the month to see if any of the schools they want to look at, that weren't at the WEF, will be there. The NACAC will take place in the Wisconsin Center in Milwaukee on September 30th, 3pm to 6pm.
If students missed the WEF at Arrowhead, additional fair dates and information can be found at the WEF website.
"The college fair got me excited for my future experiences with colleges and applications," Hofkamp says.