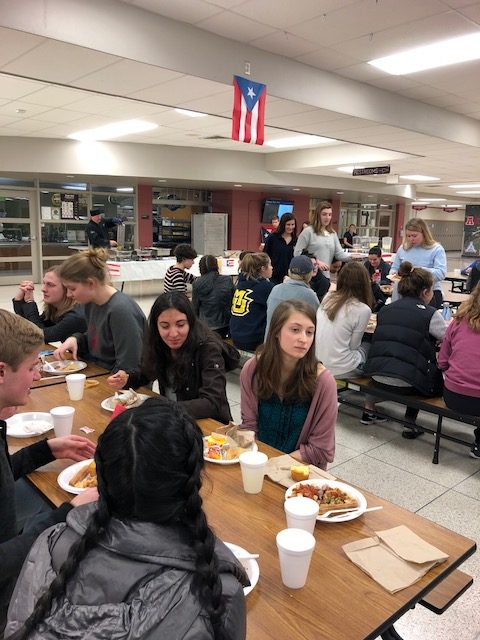 Arrowhead's Spanish Honors Society is joining the efforts to help Puerto Rico recover from the devastating Hurricane Maria. This Thursday, January 25th, the club is hosting a Tertulia from 11:00-12:00 pm in the North Camps commons to raise money. Between January 3-19th, students were able to sign up for the event with a Spanish teacher for $10. The event's sign-up deadline was January 19th.
Spanish Honors Society member Maria Turco says, "A Tertulia is basically a gathering of friends. It's a big meal that we're having together. There'll be music but for the most part just food."
The proceeds will be sent to Palmarito, a rural village in Puerto Rico. AHS Spanish teacher Jeanne Psket introduced the fundraiser opportunity to the Honors Society as a way to help her friend who has familial ties with Palmarito. Her friend is also raising money through her church for her hometown.
According to Turco, repairing roads is Palmarito's biggest issue and the main focus of the fundraiser.
She says, "Most of the resources are in the city, so there's really no way to get help to rural areas because of the bad road conditions."
Students who signed up for the Tertulia can relax after their last semester final with traditional Puerto Rican food and music.
The main course will be Puerto Rican citrus roasted pork, spicy roasted potatoes, arroz con pollo, and black bean and corn salad. Sides include tortilla chips and salsa, churros and cookies for desert, and lemonade, milk, and water for beverages.  The Honors Society enlisted the help of AHS cafeteria director Mike Owen to create the menu for the event.
Turco says, "[Mike Owen] did the food for the Spanish Honors Society induction ceremony, so we asked for his help with this event. We gave him some suggestions, but he created the menu."
Attendees for the Tertulia will have the opportunity to participate in a 50/50 raffle where they can win 50% of the raffle ticket sales. Raffle tickets will be priced at $2 for 1 ticket, $5 for 3 tickets, and $20 for 20 tickets.