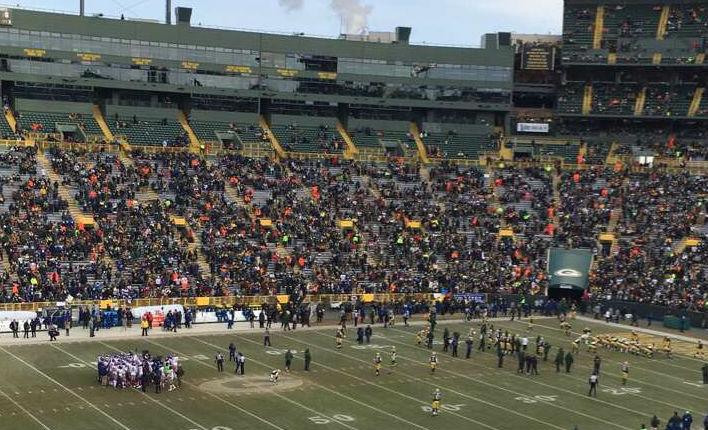 The 2016-17 NFL season is now in the books and the playoffs are underway. In the NFL, getting to the playoffs is a big accomplishment for many teams. For teams like the Green Bay Packers and New England Patriots, it is just something that comes naturally. These two teams both hold the current record for most consecutive playoff appearances, which is eight.
The Wild Card games take place this weekend on Saturday, January 7th and Sunday, January 8th.
This Sunday, the Green Bay Packers (10-6) play the New York Giants (11-5) in the an NFC Wildcard game at Lambeau Field at 3:40 pm.
Nick Noll, an Arrowhead senior and Packers fan, had some input on how the game would pan out.
"Sunday's game will be the game of the week and most likely a shootout." Noll said. "The players I can see carrying their teams are Aaron Rodgers [Packers QB] and Odell Beckham Jr. [Giants WR]. Hopefully Green Bay can get the W."
These two teams have some playoff history against each other in which the Giants have dominated.
In 2007, under the newly acquired coaching of Mike McCarthy, and arm of former QB and Hall of Famer Brett Favre, Green Bay made it to the NFC Championship.
In 2011, the Packers made it to the playoffs again after a Super Bowl XLV victory with MVP Aaron Rodgers and with only one loss during the season. They would advance straight to the Divisional round with this performance.
But the similarity between the two playoff matchups is that the Green Bay lost both to New York. Now with another matchup with this team, the Packers look for playoff revenge.
Arrowhead freshman and "die hard" Packers fan as he considers himself, desperately wants to see the Packers come away with the win.
"Nothing would make me happier than for the Packers get their revenge." ,Henning said. "Go Pack go!"
With a defense that looks better than the Packers' current defense, the Giants need to contains Rodgers and his offense if they want to win. But for the Packers, their offense has stepped up immensely and if they outplay the New York defense with all versatile weapons of receivers, they can Noll's, Henning's, and every Packers fan's dreams come true. A potion that the Giants have struggled to cover is the tight end position and Green Bay has the growing weapon, Jared Cook.
Whoever wins this matchup will go to face the red hot Dallas Cowboys at AT&T Stadium on Sunday, January 15th in the Divisional round at 3:40 pm.