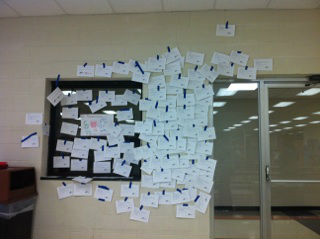 Arrowhead Union High School inspired teens to drive safely during National Teen Driver Safety Week. Throughout the week, students had the opportunity to sign a card, pledging to wear a seatbelt at all times in a motorized vehicle and to notify others to wear one when they are not.
If students did not have a license, they were eligible to sign a contract stating they would follow the guidelines.
Once signed, students were eligible to enter a contest. Students that have remained faithful throughout the contest will have their name in a drawing. The person of whose name is drawn wins a car from Jack Safro. The goal is to better educate teens about safe driving.
"Operation Click is a student driven program, you control this program. Each school is required to set up a student committee to drive this program in their school. The committees are responsible for encouraging students to sign contracts, organize events in the school to promote safe driving, and rewarding students for safe driving. Without student leaders, this program would not be able to function in the way it does. Go get involved, become a leader and help save lives while doing it…Operation Click is focused on saving teens lives by empowering students to embrace safe driving habits – working hand in hand with our community to make it happen," said Operation Click Website.
"Operation Click has been instrumental in formulating the driving behavior of teens since 1998. This incentive and educational based program focuses on generating buy-in and ownership of the program for the teens of our community. If we can rely on our teens to motivate their peers, stimulate rivalry amongst schools in their chapter, and promote that only one student in each chapter who has exemplified safe driving will win a car; then the mission of this program will certainly be accomplished," said Sean McGrath, Operation Click President.
"In Wisconsin, texting while driving has been prohibited since 2010. More recently, in November 2012, a law passed that bans novice drivers from using cell phones in any manner while driving a motor vehicle. There is a good reason why these distracted driving laws target teen drivers. In a recent study, the AAA Foundation for Traffic Safety found that use of electronic devices ranked as the leading cause of distraction among teen drivers. Female teens were nearly twice as likely as male teenagers to use an electronic device while driving, AAA discovered. A study by the University of Michigan Transportation Research Institute (UMTRI) and Toyota sheds even more light on this problem. The study of drivers age 16 to 18 found that 25 percent of teen drivers respond to a text message at least once every time they drive, while 20 percent of teens admitted that they have extended, multi-message text conversations while driving," said cochranfirmwisconsin.com.
"Each day in the United States, over eight people are killed and 1,161 injured in crashes that are reported to involve a distracted driver. Distracted driving is driving while doing another activity that takes your attention away from driving. Distracted driving can increase the chance of a motor vehicle crash," said Gruber Law.
"Buckle UP Phone DOWN," said @ahsopclick about safe driving.
"Arrowhead Union High School students have accepted the mission to reduce teen fatalities and injuries from motor vehicle crashes by promoting Operation Click, seat belt safety and addressing distracted and impaired driving through education, peer to peer activities, and positive reinforcement. The activities and promotions are all student-driven with the focus of keeping two eyes on the road and two hands on the wheel. Arrowhead students advocated safe driving habits while discouraging distracted driving through videos, random seat belt counts, education in Health class, PSA announcements at football, basketball, and hockey games, skylerts to our parents and students, creative props and bulletin boards, used social media such as Instagram, Twitter, & Facebook, and implemented three peer to peer activities. Arrowhead High School recognized the key to addressing teen driver safety issues is to engage the school and community in promoting positive reinforcement and recognition of our students demonstrating Operation Click. AHS is pairing up with local businesses to offer incentives for students in compliance with safe driving habits," said Deb Paradowski, the AHS associate principal.
According to Paradowski, the peer to peer activities that were driven by our students were interactive. They promoted Operation Click using impaired goggles, pledging to not drive distracted and use of the simulator among other events. Students will also promote Operation Click at two basketball games in December. Teens were encouraged to keep two eyes on the road and two hands on the wheel.
As seriousaccidents.com says, chronologicaly distracted driving, speeding, drunk driving, reckless driving, rain, running red lights, running stop signs, teenage drivers, night driving, design defects, unsafe lane changes, wrong-way driving, improper turns, tailgating, driving under the influence of drugs, ice, snow, road rage, potholes, drowsy driving, tire blowouts, fog, deadly curves, animal crossings, and street racing are the top 25 causes of car accidents. This list is to educate all levels of drivers.
They ask, is this a big problem? According to cdc.gov, as of 2013, 3154 people were devastatingly killed in car crashes that involved a distracted driver. In 2012, 3,328 people were killed in crashes. For injuries, in 2013, 424,000 people were injured in motor vehicle crashes
In 2013, 424,000 people were injured in motor vehicle crashes involving a distracted driver, an almost 10% increase since 2011.1
In 2013, nearly one in five crashes (18%) in which someone was injured involved distracted driving.
Want to pledge to NEVER text and drive? How many people took the pledge? As itcanwait.com 11,374,284 people took the pledge to never text and drive. As itcanwait.com says, there is an app available to minimize distractions while driving. ONe can download the AT&T DriveMode on itunes and on googleplay.
On Twitter, users can spread the word by using the #NoPhoneNoProblem #donttextandrive #distracteddriving #roadsafety . They can also follow user suchas ItCanWait TextingAwareness StopTheTexts TextingThumbBands UintheDriverSeat and Don'tTweet&Drive.
"It is not only the driver, but you can easily be distracted by the people in your car. So we want to kind of embrace that and then come up with activities. It's basically a partnership of promoting um safe driving habits for kids," said Paradowski.
At Arrowhead, on October 16th, there was a seat belt check. Overall, for our students here, we were at about 95%. "Distracted driving is the number one cause of deaths in Wisconsin. Not alcohol. Not drugs. Distracted driving," said Paradowski.
For the activities, students not only were allowed to participate in the Hawkfest golf cart event, but can also participate by signing a pledge to buckle up in their car. Winners can win a car! For the week of October 17, students can sign up for the opportunity to win a car while driving safely. Failure to do so will be eliminated from the competition.
"October 16-22 is National Teen Driver Safety Week and to celebrate we are putting together a program to raise awareness about the importance of seat belt use, one of the top risk areas for teen drivers. It will involve  delivering messages about seat belt use to the students,  conducting a seat belt check at a designated time as students drive into the school parking lot, seat belt use pledge cards, and of course some rewards/promotional items for the students!" said Carissa Hoium, Motor Vehicle Safety Coordinator.
Remember to #BuckleUPPhoneDown because #SafetySavesLives,
Distractions while driving provokes a decision that can easily change your life. The three second decision has the factor that can change yours and someone else's life. As they say. be safe not sorry. Buckle UP and Phone Down.